Save the Date Magnets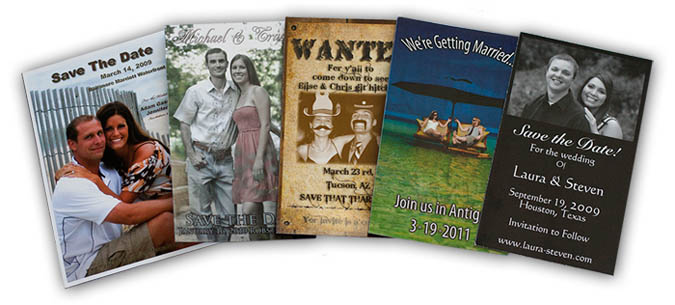 Congratulations! If you're reviewing this page, you are probably planning your upcoming wedding. What better way to inform your family and friends to "Save-The-Date", than to send them one of our custom Save-The-Date magnets? We can print images (including full color photos and text) on your custom Save-The-Date magnet design.
Our custom Save-The-Date magnets are 20 mil thick. Printing is offset lithography on paper. The paper imprints are laminated with ultra-clear Mylar film, applied to vinyl magnet material and then die cut. Custom cutting dies ensure clean cuts and tight registration.

Save the Date Magnet Pricing
| Item | Size | 125 | 250 | 500 | 1000 | 2500 | 5000 | 10k |
| --- | --- | --- | --- | --- | --- | --- | --- | --- |
| BL-5151 | 2" by 3.5" | 1.01 | 0.620 | 0.320 | 0.250 | 0.200 | 0.150 | 0.093 |
| BL-5141 | 2" by 4" | 1.27 | 0.570 | 0.474 | 0.316 | 0.224 | 0.157 | 0.145 |
| BL-5153 | 3" by 4" | 1.40 | 0.752 | 0.564 | 0.376 | 0.307 | 0.237 | 0.217 |
| BL-5155 | 3" by 5" | 1.42 | 0.776 | 0.584 | 0.387 | 0.315 | 0.248 | 0.223 |